Rediscovering America-The most popular attraction in each state
With the start of summer right around the corner, schools have closed their doors and families are planning their next dreamy vacation. Due to the pandemic, many Americans had to put their travel plans on hold last year. However, as vaccination rates keep improving and more states continue to fully reopen, it is time to get back out and explore.
Domestic tourism has seen significant growth over the past year and will continue to do so in the near future. With that being said, Musement, the digital discovery and booking platform for travel activities and experiences around the world, conducted a study to find out the most popular attraction in each state. To find out the most popular attraction, Musement analyzed all attractions per state in Google Travel* and produced a map with the results.
Whether you are a beach lover, amusement park guru, or a history buff, pay a visit to one, or more, of these 50 attractions and rediscover America.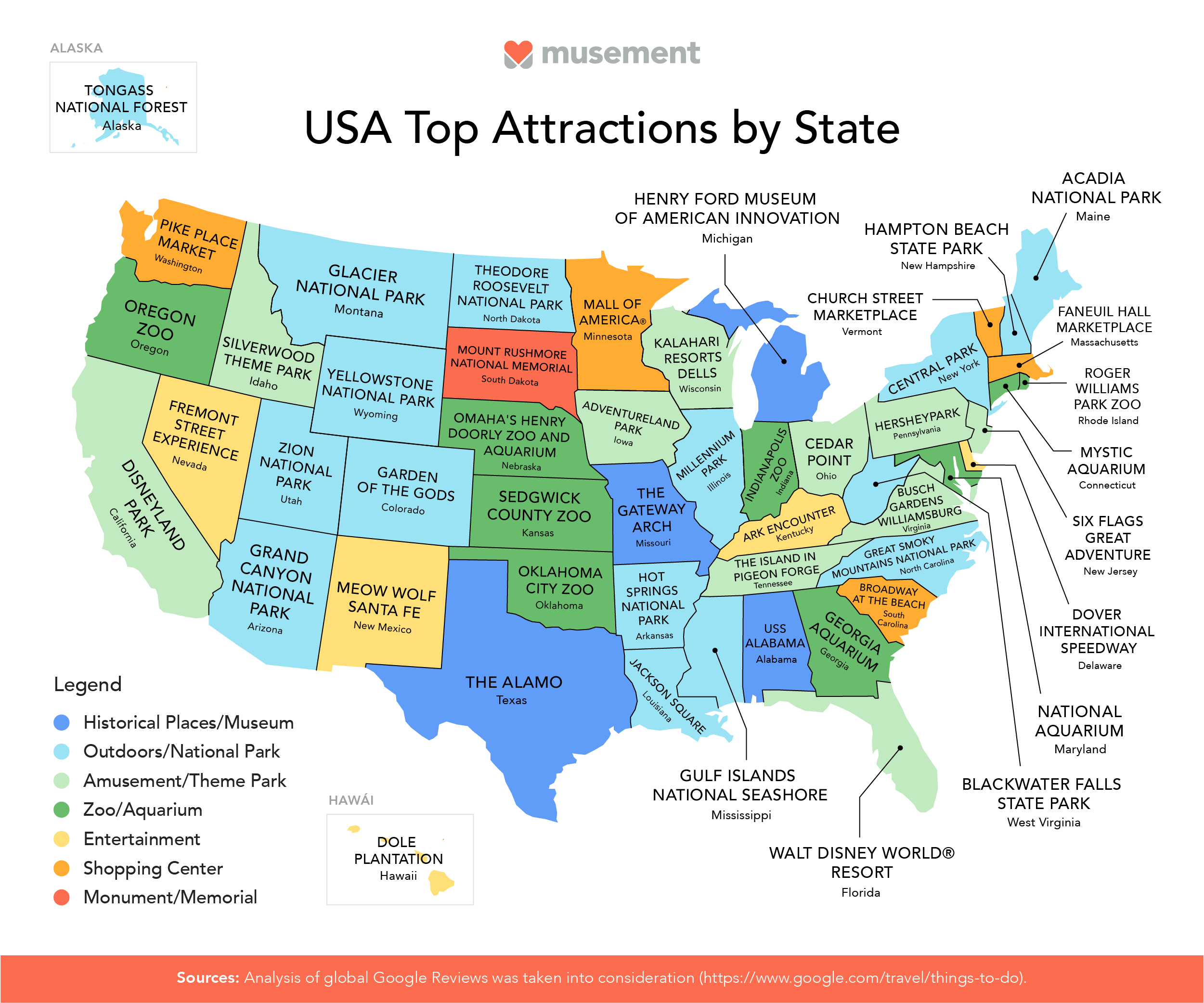 From north to south and from coast to coast, America is packed with diverse landscapes that are worth exploring for every type of traveler. Each state has its own culture and landmarks that make them unique.
Outdoor enthusiasts have a plethora of places to choose from. National parks and outdoor attractions make up almost one third of the most popular attractions in the United States. From the greats like The Grand Canyon (Arizona) and the urban oasis Central Park (New York), to lesser-known gems like Blackwater Falls State Park (West Virginia) or the Gulf Islands National Seashore (Mississippi) and its beaches, you can get a taste of cultural activities while enjoying Mother Nature.
Thrill seekers and families with young ones will be glad to see that ten states across the country have amusement/theme parks as their number one attraction. Snap pictures with Mickey and your favorite Disney characters at Walt Disney World (Florida) or Disneyland Park (California). Otherwise, you can escape to Europe and visit Busch Gardens Williamsburg (Virginia). Got a craving for chocolate? Head to Hersheypark (Pennsylvania) and see what the hype is all about.
History buffs will be able to turn the clocks back at the Henry Ford Museum of American Innovation (Michigan) where they can witness some of America's most historical items, discover what life was like in the 1830s at The Alamo (Texas), or jump on board the World War II battleship turned museum at the USS Alabama (Alabama).
Animal lovers across the states have the opportunity to visit some of the world's best zoos and aquariums. From Omaha's Henry Doorly Zoo and Aquarium (Nebraska) and its one-of-a-kind exhibits to the world-renowned Georgia Aquarium (Georgia), one of the largest in the world, to the west coast's Oregon Zoo, the United States offers plenty to admire.
*Methodology: To determine the most popular attraction per state, each state was searched in Google Travel (source: https://www.google.com/travel/things-to-do). The attraction with the highest number of Google reviews was chosen as the most popular. For attractions that appeared as the most popular in multiple states (Ex: Yellowstone National Park in Wyoming and Idaho), the state where a majority of the attraction is located was selected. Casinos and hotels were omitted from the results.
About Musement
Musement is the digital platform that allows you to book more than 55,000 travel experiences in over 140 countries around the world. The service was created to help travelers discover and book things to do – from museum visits to city tours, food and wine tastings, sports events and wellness activities – wherever they go, with the goal of enriching their every trip. The digital booking platform is now available in nine languages: English, Italian, French, Spanish, German, Portuguese, Russian, Dutch and Polish, with Scandinavian languages to be added soon. The service is available through various digital touchpoints: the Musement B2C website and apps; the specialized platform for travel agencies; while platforms and integrations have been carried out with countless online distribution partners, including some of the world's leading OTAs, tour operators and travel companies.
Musement is headquartered in Milan and has offices in Hamburg, Amsterdam, Barcelona, Dubai, London, Munich, New York, Orlando and Paris. It has been certified as a Great Place To Work® and listed among the top 25 Best Workplaces® in Italy (within the 150-499 employee subgroup). In September 2018, Musement became part of TUI Group, the world's leading tourism group, joining its Tours & Activities division known as TUI Musement.